A graduate of the Warsaw Academy of Fine Arts – the Faculty of Interior Architecture, with the annex in Painting.
She creates in several painting techniques, exhibits her paintings at home and abroad. Her works are in many private collections in Poland and in the world.
Actively participates in the plein-air and artistic events of the YOUNG AT ART group and the international ARTE Group.
She paints abstract, round paintings with good energy, realistic portraits to order, and warm Mediterranean landscapes in oil and acrylic techniques on canvas.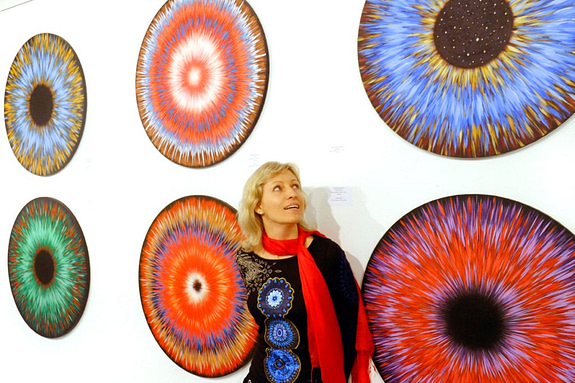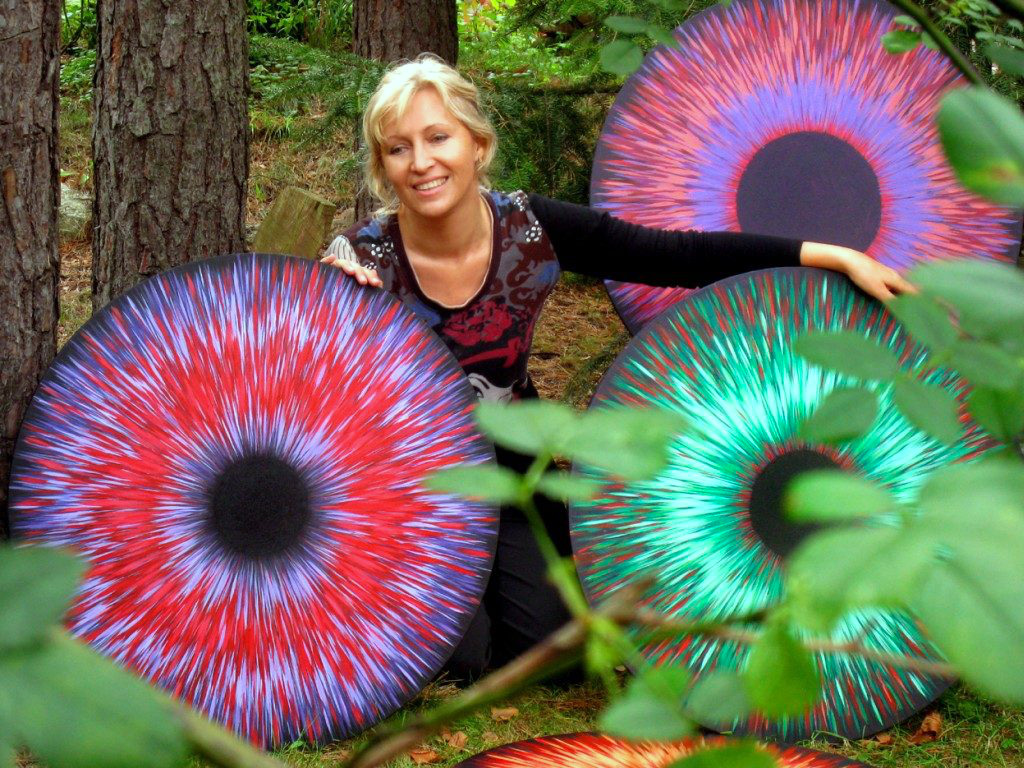 2010 exhibition of illustrations, Independence Museum, Warsaw
2007 individual exhibition, U Gallery, Warsaw
2006 illustration exhibition, OKO, Warsaw
2006 collective exhibition, Ivanofrankivsk, Ukraine
2006 jubilee exhibition, U Gallery, Warsaw
2003 "POŁUDNIE" solo exhibition, Kazimierzowski Palace, Warsaw
2002 "ŚRÓDZIEMNOMORZA" individual exhibition, U Gallery, Warsaw
2002 "MEDITERRANEO" individual exhibition, University of Warsaw Library (BUW), Warsaw
2001 "DWA OBLICZA" individual exhibition, Białołęka Culture Center, Warsaw
2020 "THE UNIVERSE OF COLOUR" wystawa zbiorowa, Berlin
2020 "VISE OD UMETNOSTI" wystawa zbiorowa, Krcedin, Serbia
2020 wystawa zbiorowa Galerii Przechodniej, Związek Polskich Artystów Plastyków, Warszawa
2020 "WSZECHŚWIAT KOLORU" wystawa zbiorowa, Busko Zdrój, XXVI Międzynarodowy Festiwal Muzyki
2020 "WSZECHŚWIAT KOLORU" wystawa zbiorowa, Galeria Suszarnia, Włocławek
2020 "KIODYGRESY II" wystawa zbiorowa, Galeria Amfiteatr, Ostróda
2020 "WSZECHŚWIAT KOLORU" wystawa zbiorowa, Zameczek, Kielce
2020 "TRZECIE OKO" wystawa indywidualna, Galeria Przechodnia, Komorów
2020 "GALAKTYCZNE OGRODY" wystawa indywidualna, Mizu, Warszawa
2020 "WSZECHŚWIAT KOLORU" wystawa zbiorowa, Centrum Dziedzictwa Spichlerz, Tyczyn
2020 "TRZECIE OKO" wystawa indywidualna, Wibracje Festiwal, Rynia
2020 "KANAŁ SZTUKI" wystawa zbiorowa, Kazimierz Dolny
2020 "WSZECHŚWIAT KOLORU" wystawa zbiorowa, Oliwski Ratusz Kultury, Gdańsk
2020 "WSZECHŚWIAT KOLORU" wystawa zbiorowa, Stara Rzeźnia, Szczecin
2019 "OBRAZO-MURALE" group exhibition, Galeria Przechodnia, Warsaw
2019 "LATO FEST Z DKŚ" group exhibition, Dom Kultury Śródmieście, Warsaw
2019 "GALAKTYCZNE OGRODY" individual exhibition, Centrum Promocji Kultury Praga Południe, Warsaw
2019 "POWER OF ART – CZERWONY" group exhibition, Centrum Koneser, Warsaw
2019 "POWER OF ART – NIEBIESKI" group exhibition, Centrum Koneser, Warsaw
2019 "POWER OF ART – ŻÓŁTY" group exhibition, Centrum Koneser, Warsaw
2019 "POWER OF ART – ZIELONY" group exhibition, Centrum Koneser, Warsaw
2018 "WIELKIE OKO" individual exhibition, Galeria Metamorfozy, Warsaw
2018 "MALARSTWO" individual exhibition, Hala Koszyki, Warsaw
2018 outdoor group exhibition, Timisoara, Romania
2018 "FALA" collective exhibition, Baltic Art Gallery, Koszalin
2018 'WIZJE CZASU' collective exhibition, Off Piotrkowska Gallery, Łódź
2018 'EVIVA L'ARTE' collective exhibition, Kaunas, Lithuania
2018 "DWORY I PALACE" collective exhibition, Metamorfozy Gallery, Warsaw
2018 'BARWY DZIECIŃSTWA' individual exhibition, KKG, Warsaw
2018 'EVIVA L'ARTE' collective exhibition, Koszedary, Lithuania
2017 "EVIVA L'ARTE" collective exhibition, Belgrade, Serbia
2017 "EVIVA L'ARTE" collective exhibition, U Gallery, Warsaw
2017 "ZDA (e) RZENIA" collective exhibition, Galeria SD, Warsaw
2017 "EVIVA L'ARTE" collective exhibition, Culture Promotion Center, Warsaw
2017 collective exhibition, Łochów Palace
2017 "ENERGIENATURY" individual exhibition, Synagogue Center, Zamość
2017 "8 KOBIET" collective exhibition, Metamorfozy Gallery, Warsaw
2016 "EVIVA L'ARTE" collective exhibition, Krusevac, Serbia
2016 "KOLORY ENERGII" individual exhibition, Pod Okiem, Warsaw
2016 "EVIVA L'ARTE" collective exhibition, Ostromecko Palace
2016 "BARWY CHWIL" individual exhibition, Club at Hoża St., Warsaw
2016 "EVIVA L'ARTE" collective exhibition, Space of Arts, Siedlce
2015 "EVIVA L'ARTE" collective exhibition, DAP 1 Gallery, Warsaw
2015 individual exhibition, MDK, Galeria Łazienkowska, Warsaw
2015 individual exhibition, "Galeria 400" Budapest, Hungary
2015 "ŚLADY" collective exhibition, DAP 2 Gallery, Warsaw
2014 "Warszawski pejzaż" post-competition exhibition, Galeria DAP 1, Warsaw
2014 solo exhibition, KDC, Budapest, Hungary
2014 solo exhibition, Pula, Croatia
2014 individual exhibition, book stop, Warsaw
2014 collective exhibition, Villa Karisse, Warsaw
2014 collective exhibition, Krcedin, Serbia
2014 "WARSZAWSKI PEJZAŻ" collective exhibition, Marshal's Office, Warsaw
2014 "WARSZAWA" collective exhibition, DAP Gallery, Warsaw
2014 "GRA W KOLORY" individual exhibition, Łazienkowska Gallery, Warsaw
2013 collective exhibition, Villa Karisse, Warsaw
2013 solo exhibition, Stara Pazowa, Serbia
2013 solo exhibition, Belgrade, Serbia
2013 "BŁĘKITNE ŚWIĄTYNIE" individual exhibition, Church of Creative Communities, Warsaw
2013 "AKCJA-KREACJA" collective exhibition, Radziejowice
2012 individual exhibition, OKO, Warsaw
2011 collective exhibition, Helnaes, Denmark
2011 individual exhibition, Museum of Independence, Warsaw
2021 "ART INSPIRE vol.1" wystawa zbiorowa, Warsaw Spire – Galeria Przechodnia, Warszawa
2021 "MALARSTWO" wystawa indywidualna, Galeria Metamorfozy, Warszawa
2021 "KOCIOŁ ARTYSTÓW" wystawa zbiorowa, Metropolis – Galeria Przechodnia, Łódź
2021 "ART INSPIRE vol.2" wystawa zbiorowa, Warsaw Spire – Galeria Przechodnia, Warszawa
2021 "TRZECIE OKO" wystawa indywidualna, Galeria Przechodnia, Warszawa